PINNED ITEMS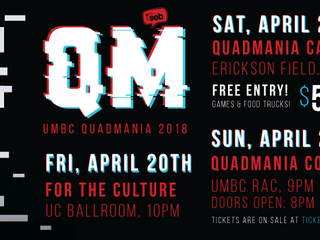 TICKETED
·
1:00 PM
·
On Campus
***Deadline to signup is Tuesday 4/17 6pm*** This is the registration form for the 2018 Retriever Quest. Retriever Quest is a 2 day scavenger hunt for free prizes. The Student Events Board...
8
·
3 attendees
·
0 comments
Got Talent? Show the UMBC community on Festival Day!
This year Quadmania Festival Day is on April 21st! If you or anyone you know would like to have a chance to perform on the Quadmania Festival stage, click here, fill out the form and submit a...
LATEST UPDATES