Was your childhood filled with the tales of Alice in Virusland?  Ann the Anopheles Mosquito?  Huber the Tuber?  No?
In the early 20th century, long before WebMD and daytime television, it was a struggle to get the word out about public health risks in a way that was both attention-getting and informative.  Using illustrations provided a double advantage- it was an easy way to depict what could not easily be photographed, and it also played off the huge popularity of daily newspaper comic strips at the time.
The American Society for Microbiology Book Collection, part of Special Collections at the Albin O. Kuhn Library, provides several great examples of the innovative use of illustrations and humor to get across some very serious messages.  ASM Archivist Jeff Karr shared three such publications for us to highlight.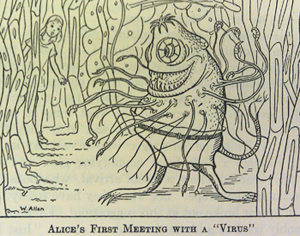 Alice in Virusland is a slim volume containing the transcript of an address given in 1938 by Paul F. Clark, a professor of bacteriology at the University of Wisconsin and president of the Society of American Bacteriologists (the predecessor of the American Society for Microbiology).  Clark borrows heavily from Lewis Carroll's original work, mimicking many of Carroll's songs as well as his prose style, in order to lament the dangers of anti-vaccine sentiment.  The book is filled with fantastical illustrations of microbes and viruses in traditional Alice in Wonderland situations, dating from a time when no one was really sure what many of these things looked like.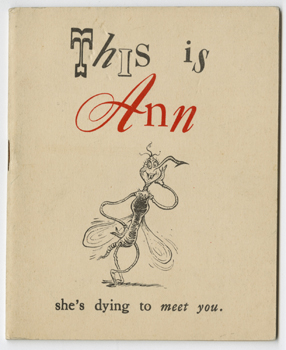 Printed in 1943, This is Ann is about Ann the Anopheles Mosquito, and the ways in which she and her type spread the dread disease of Malaria.  Produced by the War Department, this helpful little booklet lets soldiers know how Ann operates, and how to avoid her, by sleeping under mosquito nets and making sure their bodies are covered at all times.  The booklet is filled with the uncredited, but distinctive, drawings of one Captain Ted Geisel, AKA Dr. Seuss!  Additionally, it was written by Munro Leaf, author of Ferdinand the Bull.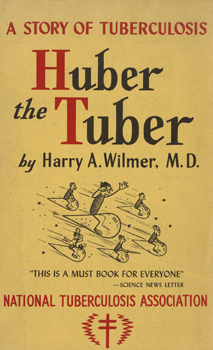 While recovering from the effects of tuberculosis, Harry A. Wilmer, M.D. had quite a bit of time on his hands.  He filled his days by creating the character of Huber the Tuber, a tubercle bacilli who along with his friends, invade and infect Lungland.  Written in 1942 as World War II raged, Huber the Tuber: A Story of Tuberculosis features Wilmer's Tubers as thinly disguised Nazis, including their leader, Nasty von Sputum.  For a medical doctor, Wilmer shows himself to be quite the talented illustrator, deftly combining medical drawings with cartoonish characters.
Although these three books are not exactly great works of literature,  they do provide a fantastic record of the early 20th century public education efforts of the medical establishment.  You can see them and more in person.  The American Society for Microbiology Book Collection is in the catalog.  You can also stop by the Special Collections Department to access them.  Special Collection is located inside of the Library Gallery, Monday-Friday from 1-4pm, and Thursdays from 1-8pm.  Other hours are available by appointment:  email speccoll@umbc.edu.  
This post was written by former Special Collections student assistant Steve Ammidown.
Related Resources 
American Society for Microbiology
This is Ann from the Navy Department Library
USDA digitized version of This is Ann
9 Things You May Not Know about Dr. Seuss