This Spring semester, History graduate student Dot Alexander worked with Chief Curator Tom Beck to research and design an exhibit of cameras from the Library's Cavanaugh collection. Please enjoy Dot's report below:
Come to the Library Rotunda this summer and see a collection of vintage cameras. Imagine a world without Instagram and instant photography! This camera collection demonstrates twentieth-century technical innovations that shifted photography from a professional, time consuming hobby to an amateur sport.
The twentieth century changed how and why we took photographs. Cameras had faster mechanical shutters, rangefinders, exposure meters, flash, and automatic technology. They became smaller, easier to use, and after the first CPU (central processing unit) in 1981—smarter! These cameras show us how we got from the first Kodak in 1888 to the iPhone.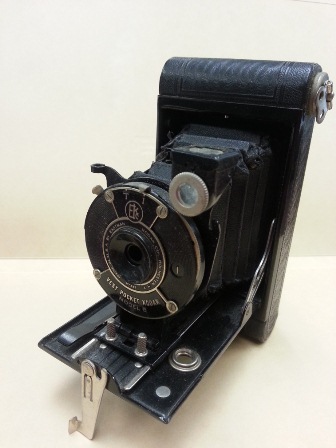 Pictured above: Kodak Vest Pocket Model B c.1925-c.1934
Featured cameras include a Kodak Premoette c.1909-1912, an Ernemann Heag IV c.1925, an early Polaroid c. 1955, and pioneer 35 mm cameras such as the Argus A and the Kodak 35. Cameras donated to Special Collections by William B. Cavanaugh (June 2, 1924-January 19, 2013)
Remember: Special Collections is open by appointment during the summer semester!
Thank you, Dot!