February 23, 2017 by
Sarah Hansen
A team of UMBC students is on a mission to improve cardiovascular health education for kids. Maniraj Jeyaraju '17, interdisciplinary studies, and Henry Wu '17, biological sciences, who both have their eye on careers in medicine and health education, lead the team developing a game to engage local middle school students in conversations about heart health.
Jeyaraju approached Wu after class one day to suggest the partnership, and they began envisioning a mobile app that involved racing through arteries and veins and learning about the cardiovascular system along the way. Wu and Jeyaraju generated one level of an app they dubbed "Pulse Finder" with four other friends: William Guzman '17, biological sciences; and Ryan Jose '17, Chris Paul '17, and Duy Tang '17, who all study computer engineering.
After initial production and testing, they found the app was engaging, but it wasn't practical for their project timeline or the right fit for their audience, requiring that each student have an internet-connected device. Maniraj and Wu shifted to developing Pulse Finder in a more traditional board game format, where players could build a circulatory system with tiles to make their way across a board, adding tiles as they demonstrated knowledge about cardiovascular health.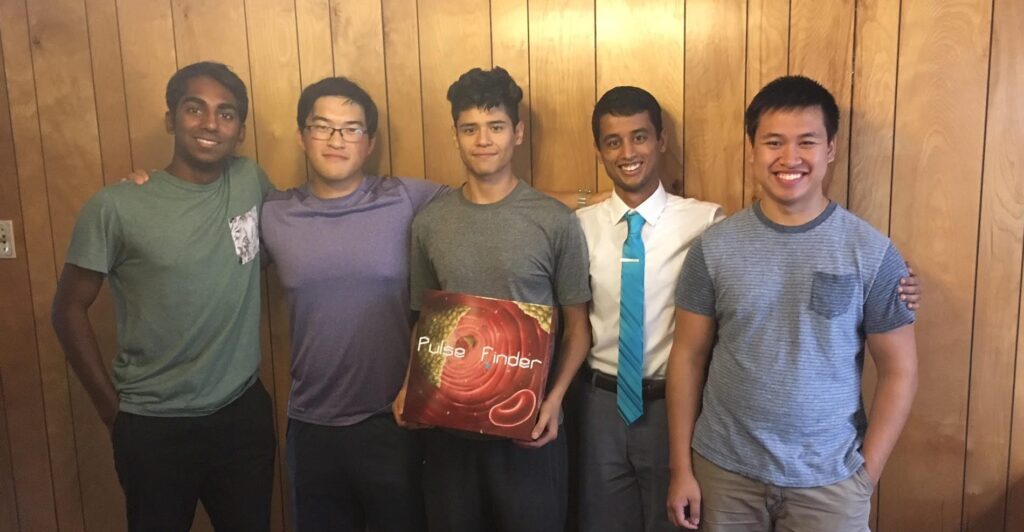 The Pulse Finder team. From left: Chris Paul, Henry Wu, William Guzman, Maniraj Jeyaraju, Duy Tang. Not pictured: Ryan Jose. Photo Ryan Wyatt '17.


The team refined their game based on informal feedback from kids at Baltimore's Port Discovery and a Baltimore charter school. Wu and Jeyaraju then received an Undergraduate Research Award in spring 2016 to fund production of eight copies of the game in fall 2016.

Since then, the team has focused on testing and refinement, to make sure the game is simple and easy to play, engaging, and effective as a teaching tool. In November and December, the duo tested the game with adults at Sheperd's Clinic in Baltimore. Jeyaraju shared that the game questions spurred discussion among the participants. "Participants really opened up about their own health conditions," Wu added.

Now the team is undertaking the approval process to formally test the game with students at Afya Public Charter School, a health-focused middle school in Baltimore. They are hoping for the opportunity to work with teachers to implement a procedure similar to the one they used at the clinic. Students would complete pre- and post-surveys to gauge their learning from a trivia-based version of the game, a scenario-based version, and a lecture-based lesson covering the same content.

For both Jeyaraju and Wu, the game is an opportunity to take their passion for health education beyond their UMBC classrooms and into the community. They are excited to see what is most helpful for kids to become invested in their health in the long term.

"With heart disease, early prevention is critical," Wu says. "Pulse Finder is a way to support younger people to help them maintain cardiovascular health later in life."

Banner image: Pulse Finder board; photo by Maniraj Jeyaraju. Original board game artwork by William Guzman.

The team would like to thank their mentors for this project:
Stephen Freeland, director of interdisciplinary studies
Steven McAlpine, assistant director of interdisciplinary studies
Krystl Haerian '99, graduate program director of health information technology