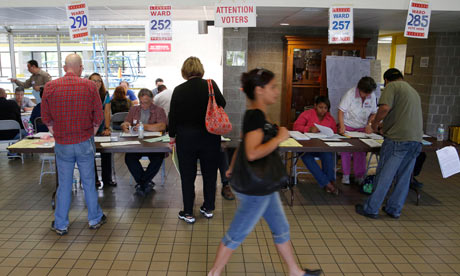 Image From the Guardian
"I.D. Please !?!'
That question is normally heard at a college bar rather than a polling place.
But last year has seen a wave of efforts to require voters to show ID before casting their ballots at the poll.
We've written about this in the past, but in case you missed it, here's the gist.
Republican state legislators across the country are proposing voter ID laws in order to combat election fraud and prevent people who are eligible to vote from voting.
Click here for an overview of voter ID laws by state and here for an update on legislative action in 2012 on the issue (I just love the National Conference of State Legislatures, don't you??).
Opponents find two big problems with this logic – first, this kind of voter fraud is rare.  Second, these laws discriminate against a lot of different people – most notably college students, transgender people, African-Americans, and the 11 percent of eligible voters who lack ID.
The debate on this issue is heated. Supporters argue  they're trying to protect the integrity of the election process. Democrats assert  the Republicans are trying to stop traditionally Democratic voters from getting to the polls.
But while this debate over voter fraud and voter ID continues, it's interesting to remember that a lot of fishy business goes on during elections.  Here are just a couple examples from recent news.
The day before the recall election in Wisconsin reports of robocalls intending to suppress the anti-Walker vote surfaced.  The calls advised voters that
If you signed the recall petition, your job is done and you don't need to vote on Tuesday.
The source of the calls has yet to be confirmed (though State Senator Lena Taylor has her suspicions) and there's no way to determine how many voters were deterred.
In the 2010 Maryland gubernatorial race, a series of robocalls went out the night of the election to heavily black neighborhoods.  The calls told voters to relax, Democrats had already won, and that there was no need to vote.  Just last month, consultant Julius Henson and campaign manager Paul Schurick for the Bob Ehrlich – the Republican challenger – were convicted for conspiracy.  The calls are reported to have reached over 50,000 voters.
And just last week, Florida finally halted a purge of their voter rolls.  The review was supposed to remove ineligible voters but in fact was disenfranchising thousands of voters – the majority of whom were people of color.
Check out the Rolling Stone's coverage of the purge for more info.
…And let us know how you vote on the issue of voter I.D.