PINNED ITEMS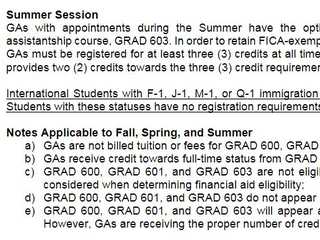 Incomplete registrations may lead to removal from payroll
Summer Session GAs  with  appointments  during  the  Summer have  the  option to  register  for  the  graduate assistantship course, GRAD 603.  In order to retain FICA-exemption during the...
Former Congressman Louis Stokes passed on August 18, 2015
In memory of Louis Stokes: February 23, 1925 - August 18, 2015 The LSAMP programs at the National Science Foundation are named after former Congressman Louis Stokes. Louis Stokes passed away...
LATEST UPDATES